Mission>
"To work in partnership with parents while offering comprehensive, creative, compassionate, and Christ-centered childcare from educated and nurturing professionals who understand, and teach according to the ages and stages of development for children 2 – 4 years old".
Vision>
"We will enhance children's creativity and imagination while teaching the basic fundamentals of learning".
General Information
ORGANIZATION:
The First Church of God, Community Education Centre Nursery School is sponsored by the First Church of God, Inc., and is administered by the Board of Directors. The overall supervision of the Nursery is the responsibility of the Director of the Nursery School.
STATEMENT OF PHILOSOPHY & GOALS:
Philosophy:
1. We believe that each child is a unique, distinct individual.
2. We believe that each child is endowed with unlimited and unleashed potential.
3. We believe that each child has the possibility of becoming what God has designed as His purpose and plan for each child's life.
4. We believe that we have been entrusted with a sacred trust and a responsibility which involves the nourishing, nurturing and developing of the young lives.
Goals & Objectives:
We aim to provide quality day care in a Christian environment. Our objective is to assist each child in becoming a well-rounded functioning individual. Therefore, our programme is designed to address the spiritual, physical, intellectual, emotional and social needs of the child.
Religious Objectives:
1. To learn about God and His love for us.
2. To learn to love and care for our families, friends and each other.
3. To learn about God and Jesus through biblical stories.
Intellectual Objectives:
1. To maintain an inquisitive nature as motivation for learning.
2. To approach the environment with problem-solving skills.
3. To acquire skills that will promote self-directed learning.
4. To have the child learn to respond to questions requiring verbal or physical responses.
5. To communicate needs and feelings appropriately.
Physical Objectives:
1. To provide planned activities to develop gross and fine motor skills.
2. To provide a daily rest and rejuvenation period.
3. To provide careful support and guidance in order to maintain the health and safety of all children.
4. To assist children in developing healthy eating habits.
Social Objectives:
1. To increase children's ability to cooperate and follow through in group activities.
2. To develop positive attitudes toward their society.
3. To develop leadership skills.
4. To appropriately interact verbally and physically with other children.
5. To take turns with peers and share toys.
6. To help children face separation from parents positively.
Emotional Objectives:
1. To establish patterns that encourage self esteem.
2. To develop expectations of success that lead to future confidence in learning efforts.
3. To develop a sense of dignity and to respect others.
Parent's Message Board
Parents, please return to this page to veiw updated information regarding daycare activities.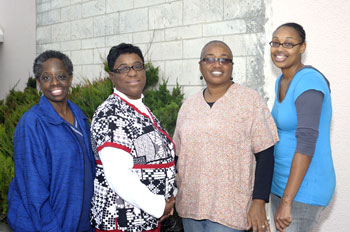 Daycare/Preschool Teachers 
Contact Information

U. Denniqua F. Matthew
Daycare/Preschool Director
The First Church of God Nursery
Phone: (441)295-6785
Phone: (441)295-6080 Ext 230
Fax: (441)295-7835
Email: dburrows@fcog.bm
HOURS OF OPERATION:
The Nursery will be open from 7:45 a.m. to 5:30 p.m. Monday to Friday. Children must be picked up no later than 5:30 p.m. A late fee of $1.00 per minute will be charged to parents who fail to comply with this regulation.
ADMISSION POLICY:
No child will be excluded from First Church of God Nursery solely because of race, national origin or sex.
Admission will be granted whenever a vacancy occurs. First preference, however will be given to members of the First Church of God and siblings of children already enrolled in the nursery. A waitlist will be kept.
AGE GROUPS:
The following age groups exist at the Nursery.
2 Years to 2 1/2 Years
3 Years to 4 Years
ENROLLMENT FORMS:
All parents must complete the necessary forms before the child is admitted to the Nursery.
FEES:
1. A $50.00 enrollment fee shall be payable upon the registration of a child. This fee is not refundable should the child not attend the Nursery.
2. Fees are due and payable each Monday morning (in advance). We encourage the payment of fees monthly (in advance). The fee for a full week is charged if your child attends for one day or more. A holding fee of $100.00 will be charged when the child is absent for the week.
3. A special discount will be allowed to families having two or more children enrolled in the Nursery
4. Parents wishing to withdraw their children for one or more months, with the intention of having them return to the Nursery, may hold a place by paying in advance, half the fee due for the period.
5. Parents must notify the school 2 (two) weeks in advance if they intend to withdraw their children from the Nursery, or pay the requisite fee.
6. One month's notice will be given for any change in the fee structure.
Click on the link above for Enrollment Forms